In an innovative collaboration, Gräbener Maschinentechnik GmbH & Co. KG and RAYLASE GmbH are bringing reduced costs and improved efficiency to the manufacturing process.
(This text ist an excerpt from the whitepaper which has been written together with Raylase GmbH. The whole whitepaper can be found below as a download.)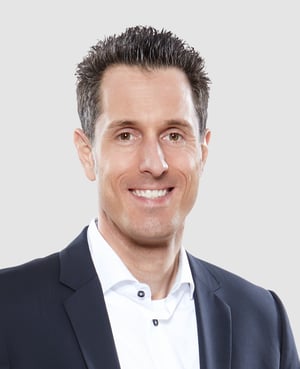 Fabian Kapp, you are Managing Director at Gräbener Maschinentechnik GmbH & Co. KG in Netphen-Werthenbach in North Rhine-Westphalia, one of the world's leading manufacturers of production systems for the manufacture of metallic bipolar plates, a core component of fuel cells.
HOW DO CUSTOMERS BENEFIT BY COMING TO YOU?
Simply put: they benefit from 66 years of accumulated development experience and world-class quality. At Graebener®, we differ from other companies in that we rely on the hydroforming process combined with state-of-the-art laser systems for cutting and welding, instead of mechanical forming.
This means that our company is more than the proverbial one step ahead of the competition, both in terms of development time and experience. And we are currently the only company worldwide to deliver metallic bipolar plates to this level of perfection.
HOW LONG HAS GRAEBENER® BEEN DEVELOPING THESE SOLUTIONS?
We have been developing hydroforming presses for sophisticated geometries in the industry for over 30 years now. At the beginning of 2000, we recognized the great potential this method has for the manufacture of metallic bipolar plates, which are one of the core components of fuel cells. A huge growth market.
In Germany, this market is still fairly insignificant, but in Asia it is already very dynamic. The Japanese, notably Toyota, are already presenting their second generation of vehicles based on fuel cell technology. Which is why, a number of years ago, we started developing laser cutting and welding systems as a complementary technology in the manufacturing process.
DOES GRAEBENER® OFFER DIFFERENT SOLUTIONS FOR METALLIC BIPOLAR PLATES?
We make it our business to understand our customers' processes. So we focus on our customers' requirements all along the line. Right now, the market is not ready and by that, I mean fuel cell production is still in its infancy, so it doesn't yet deliver large quantities. Initially, our customers have a first idea of the bipolar plate design of the fuel cell and we provide them with a corresponding design optimization based on our long-standing engineering expertise. In the next step, we test whether what we have developed will also work for series production in our application lab for prototyping & small batch production. And finally, we plan together for the future, for example, what might be necessary to scale up from 10,000 to 1,000,000 bipolar plates a year. In other words, we think in terms of each production system right up to the complete production line.
CAN YOU GIVE US AN IDEA OF THE INDIVIDUAL CUSTOMER REQUESTS YOU RECEIVE?
Well, all customers bring their own ideas, depending on the conditions in their manufacturing facility, their logistics, financial possibilities, and the vision of where they would like to be in one or five years. Here we see ourselves as a supportive, competent partner working side by side with our customers, both in the planning and the implementation of each detailed process step. As a result, our customer receives a production system or line for metallic bipolar plates that is completely tailored to their needs. Meaning, they get exactly what they really need, instead of an off-the-shelf solution.
WHAT CHALLENGES DO YOU SEE AHEAD FOR FUEL CELL DEVELOPMENT ON THE GLOBAL MARKET?
Well, it's a fact that fuel cell technology has been around longer than the combustion engine. But oil and gas development has simply been cheaper for a long time, and still is. That's why it's very important to us that our production technology helps to reduce costs in series production so that we can play our part towards an emission-free future.
MR MÜLLER, YOU ARE A PROJECT MANAGER AT GRAEBENER®, HOW DID THE COLLABORATION WITH RAYLASE GMBH COME ABOUT AND HOW IS IT GOING?
As special-purpose machine builders we offer, among other things, specialized manufacturing technology for the production of metallic bipolar plates. We are always searching for suitable technologies or components to help our customers move forward. And we quickly found the company RAYLASE in Weßling, Bavaria. What convinced us were their technical solutions and excellent consulting expertise. Our further cooperation was also collaborative and fair, both in terms of sales and support from the Technical Competence Center. It was an open and uncomplicated partnership. As users, we were able to incorporate all our suggestions and wishes regarding the production of bipolar plates. Starting with immediate optimization of the scan system right up to integration of new functions. A real WIN-WIN situation for both partners.
WHAT WAS IT THAT INSPIRED YOU ABOUT THE LASER SOLUTIONS RAYLASE OFFERED FOR FUEL CELL MANUFACTURE?
At Graebener® it is really important to us that we develop solutions that deliver excellent quality. And that's where the RAYLASE system, consisting of the laser deflection unit and control unit, really won us over. Because on the one hand, it can be easily integrated into a complete system solution and, on the other hand, it met all the requirements we had for suitability for series production.
WHICH CHALLENGES WAS THIS ABLE TO SOLVE IN THE MANUFACTURE OF METALLIC BIPOLAR PLATES?
In the value chain for metallic bipolar plates, the welding process in series production is very time sensitive. When you use Cartesian systems, a high degree of parallelization is necessary to be able to produce the required quantities. With the help of the laser deflection system, we were able to shorten the cycle times in our systems and work in a way that significantly saves resources.
AND WHAT'S THE BENEFIT FOR YOUR CUSTOMERS?
Quite simply: Thanks to the laser deflection units, processes are better integrated into the production line, allowing for easier scaling, and leading to a greater output in less time. In this way, we can reduce production costs. As an innovation leader in our field, we not only want to contribute to better quality fuel cell production, we also want to make it more attractive in terms of price. When we achieve that, we gain advantages not only in efficiency and sustainability, but also in terms of cost compared to conventional energy sources. RAYLASE technology helps move us forward.